Here's Hoping.... (2010-05-23 - 5:06 p.m.)
So another weekend is almost over. It has been a hot one here today, I only went out once. It is 86 degrees here and humid, yuck. I showered and washed my hair by 4:10pm, go me. That chore is done for the week. That is one good thing about having thyroid challenges. I work 5 out of 5 days this week. Then it is 3 days off because of Memorial Day. My hushand works next weekend so we all know the drill, be quiet if we can, meaning the dogs and me. Get this, my husband is having soup right now because I am sure he thinks it is too cold inside due to the air conditioning. I put it up 2 degrees warmer just for him. I don't have much to write about because I had a shitty Saturday body wise, so I tried to just rest and take it easy today. One of my co-workers will be gone all week on vacation, she and a relative went out west. My mom and dad are leaving on Friday for a trip throughout Canada. Go them, I am all for my parents to travel as much as they can, you can't tell them not too. Oh, we planted a number of tomato plants and two cilantro plants and it seems some animals stole and ate one of the tomato plants. My hushand thinks it is a deer. We have the pots sitting on a patio table out on the back patio.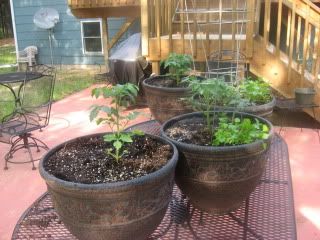 I don't think that I am going to do flowers this year, too much work, I think I need less to have to deal with. I have all the periannuals to take care of, etc. Sounds like it is going to be humid and hot all this week. I sound like an old lady whining about the heat. This heat, this early is unbelievable. I guess I will have to wear short sleeves to work now, so everyone will just have to get used to the tattoos all over again. I don't even really notice them too much because I have had them for so many years. I know ho-hum and boring. I was getting tattooed before it became a fad. Now tattoos on women is so common place. So with all this blather, I don't have anything else, just hoping for an ok body week.