Mumble....Mumble (2009-06-23 - 4:59 a.m.)
Here I am again, another early morning. I don't even try to sleep anymore when I know that I can't, might as well just get up. I will just go to bed earlier is all.
My husband worked on the water/washing machine challenge on Monday. He didn't get to anything over the weekend. He found a small hole in the cold water pipe. So he called a plumber in. So I am hoping that is fixed. He did some laundry. He said that he still wants to dig up the drain area and redo it again sometime. The key word there folks, is "sometime." That could mean "anytime," actually. So I won't hold my breathe on that one. He can do it whenever it moves him to want to do that challenge. You won't find me volunteering for that. Like I said before in a past entry, I would check on him and be the beverage girl, delivery with a smile and absoulutely no comment, let him do it how he wants to. After being with someone for a whole lot of years, one knows when to zip the lips and smile, flirting a bit also helps. Hey, it is no skin off my ass, if he does a project and it doesn't really work out to his perfection, at least I didn't say a thing, and usually he tries again. See my husband can fix some stuff, but at times he knows that he really shouldn't try to fix something and will call in a trained fixer, like yesterday, a plumber, I am sure made it a more pleasant task....not. I would hate to have to move a washing machine and dryer around. Then my husband has to super clean it all. It has to be the nurse in him, I swear, can you see yourself now in the laundry room floor, well yes folks you can. Cha ching, I hit the jackpot with this husband. The bonus last night, was clean sheets. That is always so nice.
I just put the dogs out, so I am back. I just love the early morning. Today is going to be a scorcher here in Central Wisconsin, they predict in the 90's. I can't stand the heat when it is with alot of humidity. I am so glad for central air conditioning. Yesterday at work I was sweating because I spent 4 hours in the workshop helping the staff and clients pack. We only have today and I don't really see us finishing, but what can you do when you aren't given overtime. I still have to finish packing up my work area, so I will probably eat my piece of chicken and work during my lunch today. I have to help out in the workshop and also get all my own data entry in also. Two of the staff have medical problems, so we have been working short for a bit. I am hoping that both ladies can come back next Monday 100%, because another lady goes on a week's vacation next week. We do the best that we can, what more can they ask. They will be tearing down the building we are in the first part of July for the new fire/ambulance place. The county is leasing this new place for 18 months because they want to build a new place for the three programs. I will believe that when I see that. I don't think it will happen in 18 months that is for sure.
What else, oh, my son called on Saturday, and said that I was right. Apparently the old girlfriend he rehooked up with really hadn't changed. He asked her to leave his apartment and she wouldn't, she got aggressive and he ended up calling the police. They arrested her because they also found drug related stuff on her, when they had asked her if she had any. I again told my son that sex wasn't everything, and it is too bad that, this young woman hadn't really changed. People do change, and not to lose hope. I do hope that he is now done with her.
The back tattoo piece I want to add to is an oak tree with fall colors. I want to put a Celtic circle below the tree intertwined as roots. I so love the Fall, and the Tree of Life is awesome. I would also like to work on blending together more detail in my left forearm. This photo is my right arm, I so love the Autumn Fairy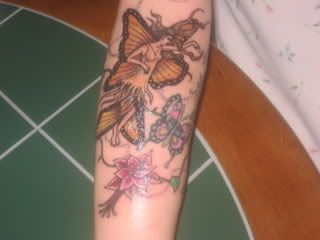 Here is part of my left arm, the Cobweb Fairy


This tattoo is on the side to underside of my left arm, it is hard to get a good photo of the whole thing