Gobble, Gobble...... (2008-12-29 - 5:38 a.m.)
Alright then, yesterday was Sunday, and today is Monday. I need to tell myself, self, you must go to work today and work. It is hard to remember what day of the week it is right now. Having to work two days, then get two days off because of the holidays. I don't know about the rest of you, but I will be darn glad when everything is back to the usual routine. Mind you I have had to keep my routine, routine, but I kept thinking when I was taking my shower and washing my hair yesterday afternoon, that hadn't I just done this a few days ago. Then when my husband worked that extra day, making it three nights in a row, which really through me. Enough said, days off are great, don't get me wrong, but I also really like my routine. Now today is Monday, and I go to work. Sounds like the weather may actually be alright here for the drive, which is always a good thing. Yesterday some turkeys were here out by the feeders. Everytime I tried to get some pictures, the dogs would go up by the window and the turkeys, would hurry off. The snow doesn't really have a crust on it, so walking in the woods, for the turkeys was hard. They would sink in it. Finally, apparently the turkeys had enough, and walked to the bank by the water and flew across it to the people's backyard across from us. I counted 16 turkey hens. Who knows where the big male one was, maybe they don't hang out together except for the mating season. I was able to get some pictures. There is one with Sadie's head in it, she eventually wasn't barking, just watching. Up close they are big.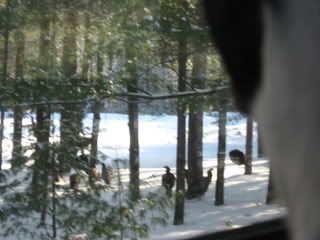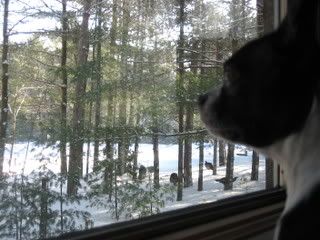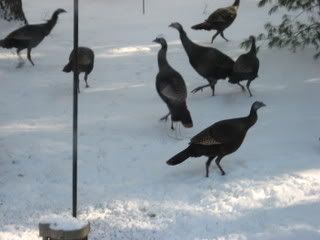 So that is about all I got for now.