A Saturday to Enjoy!!! (2008-03-29 - 6:17 p.m.)
Sure was glad when I woke up this morning it was actually Saturday. On Friday morning I woke up beginning to think that it was Saturday and realized, nope it was a work day. So I am glad to just have it be Saturday.
My son met his second daughter last night. Her mom and her came to Green Bay late last night, after the mom got down with work. My son called me this morning to tell me that they made it alright. He apparently did some soul searching and wanted to met his second daughter. She is now six months old. I am glad that he decided to do so. So he will go on from there. I hope that he wants to continue to see her. Her mom was taking a shower when he called, and he was holding her. I could hear "the little Princess!" She is very vocal. She was loud when we would go and see them, her mom and my second granddaughter.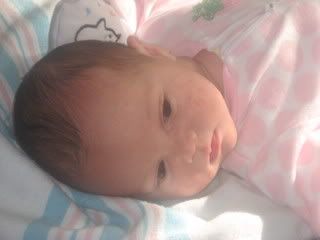 Anyhoo, I am glad he made a positive choice.
If Monkeymom reads this, I just want to say again. I just love the gloves and I would love the pattern actually. I think that I could make them. I should really branch out in my knitting experiences. I can't tell you how many different scarves and hats I have made so far in my life. I have lost count, to tell you the truth.
Other than that, not much else is going on here in Central Wisconsin. The snow continues to melt, BB9 is still on, and I spend time watching BB9 After Dark on Showtimetoo that I record each night. I still have to say that I am hoping that Natalie keeps on going and gets closer, and may actually win. She has such a good heart and soul.
Alrighty then, that does it for now.