What More Shoveling...... (2010-12-22 - 5:06 a.m.)
Wow, how did Tuesday come and go. Well I will tell you, at least for me. I woke up very early yesterday morning. Saw that we got a fair amount of snow again. So a little after 6 am I began shoveling. It was alot warmer out, temp wise. So I shoveled alot longer. It was also drizzling like while I was shoveling. I knew that I needed to shovel because the drizzle would compact the snow and making it heavier to lift. Yes it was by the time I got to the back deck in the pm. I am so proud of myself. I got it all shoveled by hand. The guy who repairs snowblowers called a little after noon and said that he would be here to pick up the snowblower before 3 pm. They got here around 3 pm, off that went to get fixed. My husband worked Monday night at 11 pm, and was supposed to be done at 11 am, well he didn't get home until after 1 pm. So he went to bed, while he slept I dealt with the snowblower fix-it guy. Then I was kind of waiting around for the snowplow guy to go by. Why, I wanted to run out a Gatorade to him, and say hi. Well he was happy to visit a bit and get a Gatorade. He noticed my big snowpile near the end of the driveway. He said he could move it for me. I yelled saying thanks and that he made my day. So after he moved along down the road, I shoveled for about another half hour or so because I had to tidy up. So when I went back in the house it was 10 minutes to 4. Yes, I spent at least 9 hours off and on shoveling. So anyhoo, when my dogs and I got up this morning, I went to put them out, I turn on the shed light and deck light, guess, there was new snow on the deck and all over. Yes, you guessed it I will be shoveling again. At least I have something to do. Right now as I write this my husband is still working. They called yesterday afternoon and said, please give him a message, that he would be working until 11 am, so who knows when he will be done. I gave him the message and said to him, that if he feels he can't drive home, to call me and I would come and get him. He works again Friday night through Sunday night into Monday morning. We need to go get grocercies and meds soon. So I am thinking maybe Friday morning. If he can do early that would be great. So how exciting is all that.
I want to say how much I enjoyed reading fullmoon's latest entry. She showed photos of her minature Christmas trees, and gave a tour. I tried to email her this but I got the email back, with the delivery failure message. I wanted to let you know that email address didn't work, maybe you have changed it. I also had mentioned in that email how a number of years ago I helped my mom make alot of fabric Christmas trees so she could give them away as her Christmas gifts. My mom each year would make something new, with me helping her when we went there for Thanksgiving. I really enjoyed the joy of sharing your decorations.
So other than the shoveling and such, I am learning how to give IdaMay insulin shots. Her blood sugar reading at the vet was over 400. With a new insulin user you have to really watch for seizures because the body may use up all the sugar, from giving the insulin and then have a seizure, so I have ready some karo syrup, and or a syringe to fill with Gatorade. When you seizure usually you can't swallow. I also thought to just rub as much as I can on her gums. Well, so far no seizures, I just keep my fingers crossed. Thank heavens for IdaMay, that I am a diabetic, and know how to help her. It makes me wonder if they have an insulin pump for animals. Thank god for insulin pumps. Old eyes have a hell of a time filling the syringe accurately, those lines for the cc's are tiny. You need good light and good glasses. I give IdaMay her insulin twice a day, so I watch her for about a half hour for problems. IdaMay lucked out, having a diabetic kitty mom to help her. Here are a couple of photos of IdaMay: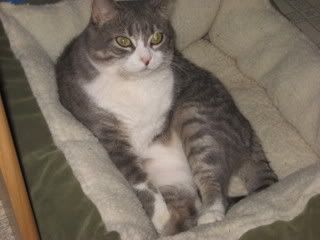 So Malcolm now is alert with her abit especially right after I give the insulin. He stands there and watches, then keeps checking on her like I do.
Not much else, I hope will be going on today, just more shoveling, maybe a drive to go get husband.