Knit Hats... (2009-04-30 - 5:43 a.m.)
So here it is the last day of April and I have now finished knitting the wool hat, finally I say. I do believe that I have worked on this hat at least a year if not more. This is my second hat I have knit. So if he wants it, he has a new hat for next Fall/Winter.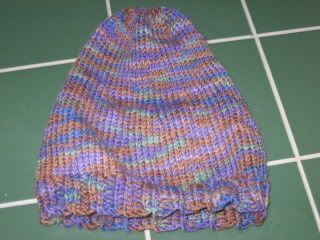 If it fits my son, he can have it. Compared to the first hat I knit, you could wear this hat out in public. The first hat, my mom wears just outside around their place. It just got a bit too pointy.
The second hat I knit I tried circular needles. Now that in itself was an adventure. I started that hat at least a dozen times before I got it to begin right because of that twist thing it So once again I am thinking about trying to knit a third hat, because maybe the third will be a charm and I sort of have the knack of it. If and when I start the next one, I don't want it to take a year to knit off and on. I so envy people who can knit awesome hats, arm warmers, anything really. So at work I am knitting a multicolor strip of something. I am just knitting because it is so nice to just knit. I do have to decide on something serious soon though.