New Book Shelves.....and More... (2008-08-10 - 7:13 a.m.)
So some, I say some, because there are still more books piled upstairs. Yesterday I filled these shelves up right quick. Again my husband will have to put more up. It sure is nice to see them upright, on shelves.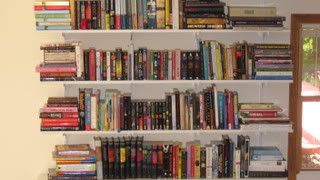 I also found a box yesterday, and I plan to write a card and pack up the clothes and goodies for the kids. That will be nice to have done and sent off tomorrow. If my husband doesn't do it tomorrow, there is always Tuesday. Our post office has odd hours, for example, they are closed for about two hours in the middle of the day. I can't plan to stop there on my way home from work, because they are closed. If I need anything from the post office, I have to go to the one in the town I work in during my lunch break. Small town post office's seem to make their own rules and times.
I don't have too much going on today. In fact I just hope that is nice and restful, plus the usual. Nope can't think of anything, just sitting here listening to Herbie Hancock, got to love jazz and blues. Oh, if you have time, go to YouTube and look up, "Homage to the Rabbits." Eric Serra does the background music. Wade Robson did the chorography. It is a piece from Criss Angel's, "Believe", I so love to watch Cirque du Soleil shows. My husband thinks it is weird but I love the flowing, sensousness of the shows.