A Green Day... (2008-03-17 - 5:32 a.m.)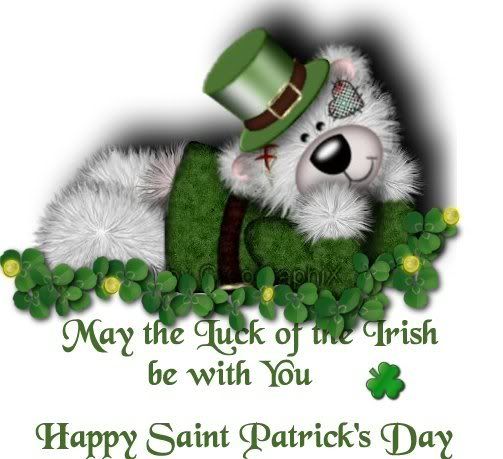 I will have to look for the color green today in my wardrobe to wear. It makes choosing what to wear so much easier. There is nothing that I do eat that is green so I can't eat or drink anything green, so wearing something green will just have to do.
My son doesn't have night classes this week, so I told him that his job is to find a job. He should also file in small claims court and do his income taxes. He won't get any money back because he never is able to keep a job and is always needing to find a new job. So he always owes back child support and they take it from any tax refund. Oh well, he shouldn't have done what he did in the first place, so he has to be responsible.
I work four days this week, so that means I have to get five days of work done in four days, which includes all of the payroll entry data because this is week two of the pay cycle and our clients need to get paid. So before I can leave on Thursday from work, I have to have the payroll totals done and scanned then sent to the person who cuts the checks for us. I usually do get it all completed.
Later on today they said freezing rain/sleet/mixed with snow crap is a coming. So maybe that will mean, I get to take another vacation day tomorrow. I really don't mind. I just go with it.
I really don't have anything else going on here. I started reading another Greg Iles book yesterday, "Mortal Fear." I thought that I had read that one, but I started it anyway, and I haven't. I would like to go to TARGET today and finish up getting the rest of the Easter goodies for the grandkids so I can get that mailed out on Tuesday or Wednesday. OK, my husband is the one who takes it to the post office in town. Alrighty then, enough.