Don't Have a Title Here... (2007-11-18 - 2:27 p.m.)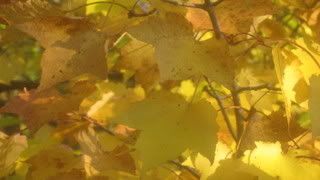 Here is a photo closeup of one of our trees in the back yard. The sunlight is glowing through the leaves. It makes me so content. I just love the Fall.
Currently my husband has on the Packer game and they are ahead. Only one more quarter to go. My husband just has to watch it, he even got less sleep, so he can watch it. He has to work again tonight and of course he will be very tired, but oh, he got to see the Packer game. I just came out into the area to write in here and then I will go back to my bedroom and read some more. I can't stand to watch football. Over the years I have watched many high school football games, not really understanding them, other than, I couldn't wait for it to be over with. I enjoyed the baseball games more. Since my son began baseball my playing in t-ball at age four, I sure am glad that I didn't mind all the games, driving, doing the selling of foods, etc. My son played until he graduated. That is alot of years. Now I don't know why I am thinking about this, other than that I enjoyed watching him play baseball more than football.
It is sunny out here, different than yesterday. Yesterday it was snow flurries that didn't stay. I haven't done anything much now for two days. I kind of like doing not much of anything. I could get used to being a lady of leisure, not. I don't mind a few days off, but right now I don't think that I could stand being home 24/7. I would drive myself nuts. I hope nobody calls me today, I don't really want to talk with anyone. So I hope everyone has a good end to their weekend, and a great start to their work week. I don't have to get up to go to work. I will get up to walk my little doggy Sadie.