Hmmmmmmmmmmmm...... (2007-09-02 - 5:58 a.m.)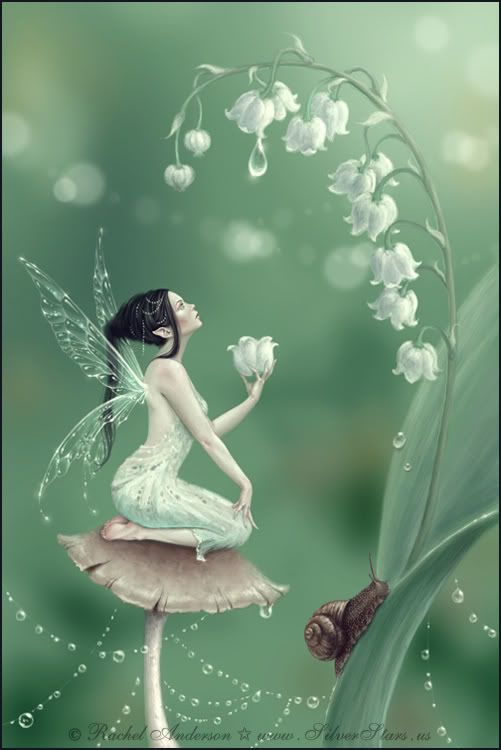 The artist who did the artwork here is Rachel Anderson, I think her name is. I like the delicateness of the lily of the valley and the wings on the fairy's back. The picture to me feels so relaxing. I like it.
Yesterday morning I wrote and entry here and after rereading it, I deleted it because I thought it was dull. So I am trying again this morning. I hope to go to Wal-Mart today for a few items because I need bananas and Gatorade. I also want to look for a new pillow, I can't remember the last time I got a new pillow, so I think I should. So my husband will probably get one also, he is such a copy cat! :) I also need more baby yarn, apparently I didn't buy enough for a whole baby blanket. I didn't think you wouldn't need that much for a baby blanket. So now I hope I can find more or I will have to start all over with a new choice of yarn. It hasn't rained here now for two days and three nights. It looks like today may also be nice. My husband works tonight but has to be there by 11 pm. You know it is different because of the holiday on Monday. Oh well. I work four days next week, then I am off for one week vacation. I have alot to do before I can go on my vacation, which I don't worry too much about because it always gets done. I can always go in on Sept. 10th to finish it up whatever I would need to do. I don't get my undies in a bundle to much anymore about work. What is, is what is!! So I won't be writing about that much this week, work and all, and the vacation coming up.
Other than that, hmmmmmmmmmm, nope nothing here. Maybe a jucuzzi bath today, and perhaps wash a load of colored clothes. I don't have to wash my hair until tomorrow.