Up and At It...... (2013-12-14 - 3:33 a.m.)
What happens when you don't get a nap or quiet time for two days. Well, I will tell you. I went to bed last night at 6 pm. So now I am up even earlier this morning. I have been up for over an hour already. Truth be told, it doesn't really matter in the whole big scope of things. I sleep pretty much when I need to, I am awake otherwise. When you live with someone who works nights, after awhile you start to readjust to their time schedule because you want to be as quiet as you can. That is one of the reasons if I need to do laundry it gets started and done before he gets home from work. All I can say is I am sure glad I am a morning person because if I wasn't everything I needed to get done around here housework wise wouldn't get done in a timely fashion. You can't vacuum when someone else is trying to sleep, ok well you shouldn't vacuum. My husband is glad that I am home all the time. Though I don't understand why, I don't see him a lot. He is either working or sleeping. He started another 4 day run of work with that being 10 plus hours a night.
Yesterday I did go and buy groceries. I think I spent over an hour there. It has been awhile since I even went in a grocery store, so I had to look at a lot of products. I spent most on meat and fresh produce and fruits. It was $180.00, it would have been $26.00 more but with their savings card, that is what I saved. Every penny helps. I didn't even buy any paper goods. I focused on meat, and fresh goods. I stocked up also on canned carrots, and a lot of foods that my husband eats. You know I pretty much just eat chicken boobs, carrots, jasmine rice, and some cottage cheese, crackers, and lots of water.
The house is making all its house noises. It is kind of eery. I also can hear the snow crunching outside at times. So can Malcolm. Sadie can't because I think her hearing has gotten worse. Anyhoo, the crunching noises I hear are some animals walking around out there. Our windows are pretty high up for that reason. I don't really care to look face to face with a large furry wild animal. So I am hoping that the dogs don't want to go outside again for awhile. If they do, I will take my gun outside with me, just so they are safe. You never know what is standing there and watching outside the light ring. Sometimes it freaks me out especially when you see eyes reflecting over a foot above where you know the ground is. I like it when the days are longer then it gets lighter earlier, I feel that it is safer for them to go out. I know this isn't always true.
What else, I don't know. My stomach is making noises, and when it gets too loud Malcolm lifts his head and looks at me. I think he thinks, thank heavens it isn't his tummy.
So it has been snowing here again. A light dusting. I guess they say we could get up to 5 inches, so you know what I will be doing off and on for the next couple of days. Did you guess...sunbathing? Not even close. Don't know, don't care, well may all the snow bunnies come falling on you than, silly. I will be shoveling or some such thing. I have to check to make sure the trickle charger is trickling. You need to check it. The one clamp sometimes slips down and the contact isn't there, therefore, it isn't charging. I can't tell you how many times I have gotten that little zap. Silly me, you would think I would remember that. When you get older, all things are like new sometimes, not that I am getting that much older.
Enough babbling I say, I mean write for now. Is it snack time yet? It must be somewhere. What is everyone's favorite go to snack? I know that for someone who reads what I right, she likes double stuff Oreos. For myself, I make myself a grilled peanut butter sandwich.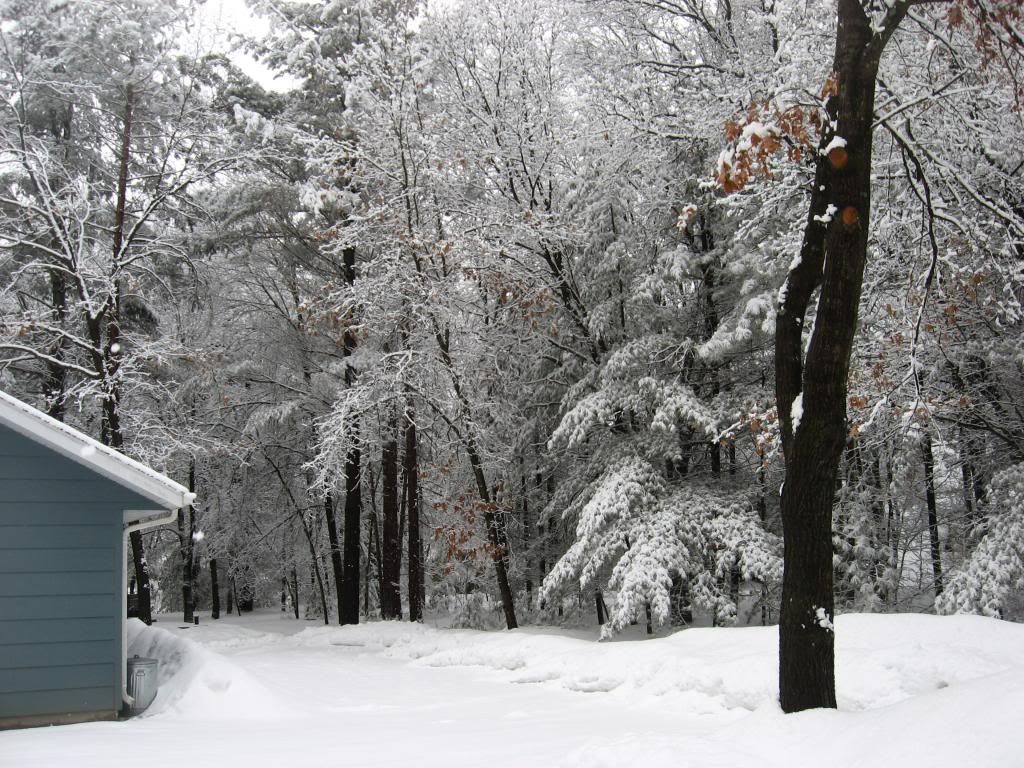 P.S. I just remembered to look out the dining room window down into the snow. Yes there are big, I tell you big animal paw tracks there. My husband even looked and said yup, big tracks. So from now on, I take my gun outside with me. I had to add this because I wrote about hearing crunching snow from inside this morning when it was still dark out.