Another Pine Is Down..... (2012-07-13 - 5:58 a.m.)
In our yard we have alot of pine trees. All of various sizes/heights. Yesterday we, my husband and I cut down what I call a medium size pine. We started around 8 am ish, and finally put the last cut log on the trailer around 2:15pm. Even being a medium pinetree, it was so hard getting the cut logs onto the trailer. It took both of us to lift them. He could only haul away four at a time because the combination weighed so much. The bucking up of the pine limbs and getting those hauled away was the easy part, and so was the cleanup, which is what I do. We took breaks, drinking water and Gatorade, plus we had peanut butter and pickle sandwiches. I was so glad we did it yesterday because the heat and humidity will once again become unbearable. On Sunday we are going to get our granddaughter and she will be here until Friday. I put aside my yardwork when she is here. We have to get the chainsaw chain sharpened, and in the ready for the next tree. The next pine is smaller than the one from yesterday. Then there are two maples to do. Maple is so hard, so a sharp chain is a must. We are also going to think hard at buying another chainsaw, this one being with a 20 inch blade arm. Yesterday was tough, and I am all about making it go easier. So glad that is done now, one tree at a time. Not doing any oaks until it is super cold because we don't want to pass on any oak wilt to any other oaks. The oak trees roots are all connected. So the focus is on any pines that my husband will part with and any maples he wants to cut down. I will continue to use the sawing branch trimming on the maples. I just want to not to have so much raking/picking up pinecones, etc. as I age. I am always thinking.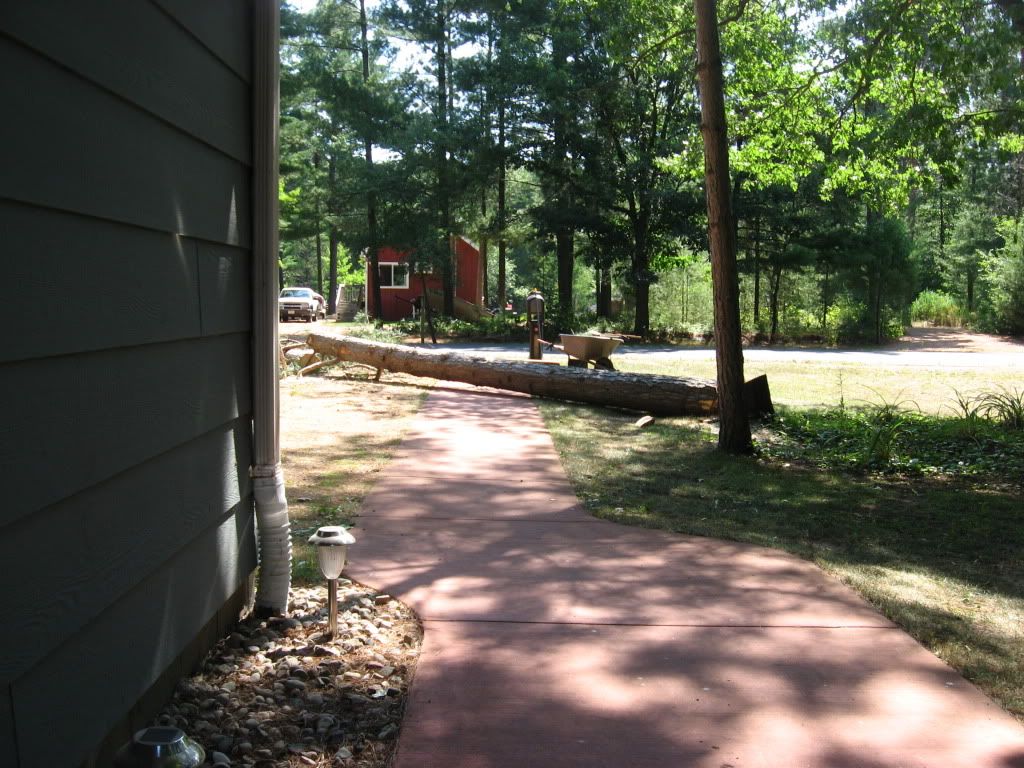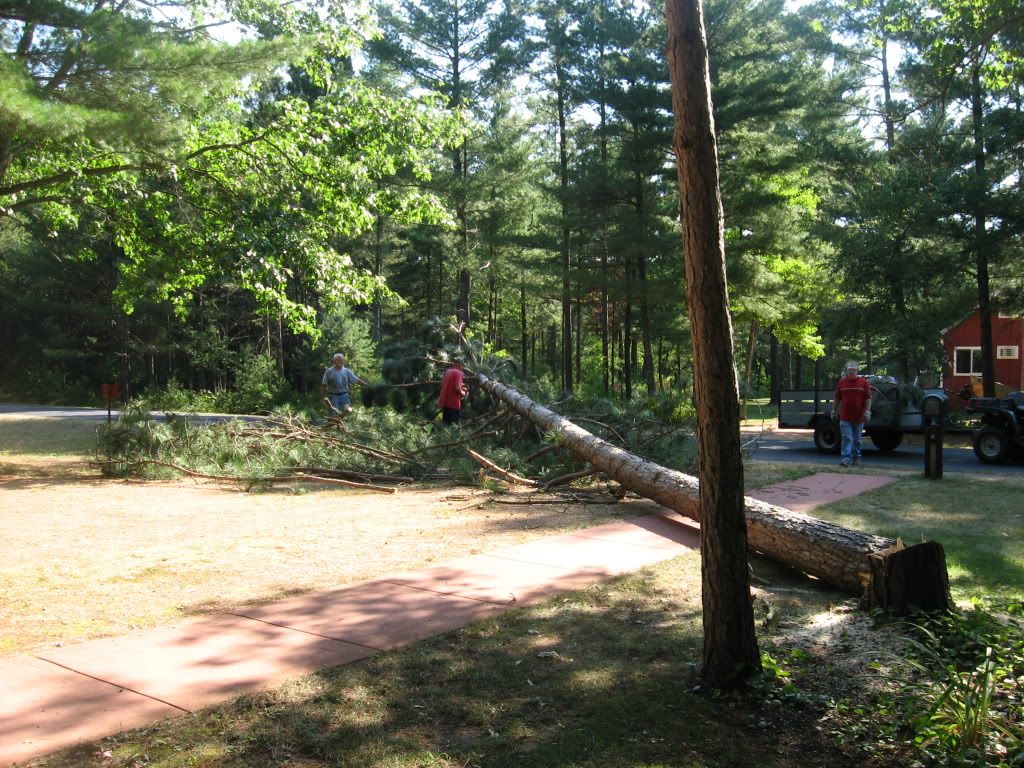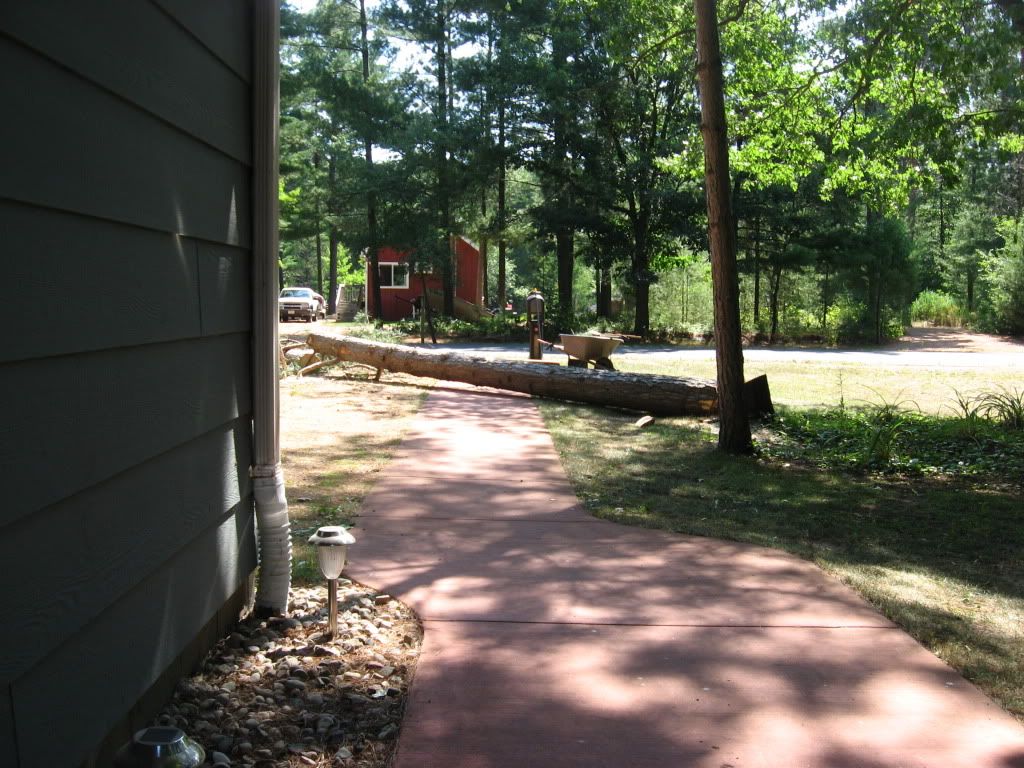 Still haven't heard from my mom and dad yet. Don't know if they are going to come over sometime this weekend. They could actually come over today, my hushand has his three nights off in a row, and won't get that again for another month or so. I think it is inconsiderate not to let us know in advance more. I would have to do some cleaing in the house. I spend so much time doing the outdoor tasks, that I don't get alot of housework done. Also when my husband is sleeping most of the day, because he works nights, I try to be quiet, hence, not alot of housecleaning gets done. He doesn't even want me to do the laundry until he wakes up. Remember I am a morning person, and I like to have my chores done by noonish if I can. I do my best, my gee whiz, sometimes it is hard.
Boy do my arms ache and my lower back from the lifting of the pine logs hurt. I took something last night to help, but it seems in a little bit I will have to take some more. Oh well, this to will pass. I have to be able to lift my granddaughter alot.
Big Brother 14 started last night. It was very good. I also started to watch BB14 After Dark, which is on ShowTime2. So part of my day will be spent watching that each afternoon for a bit. It is very entertaining.