Yup, It is Thursday or Is It? (2011-12-08 - 6:17 a.m.)
I can't remember the last time I did a load of laundry. I know the last load of laundry I did do was my bed linen, as I recall less than a week ago. I write on the wall calendar when I wash bed linen sheets and when I shower and wash my hair. That way, I don't have to have that data swimming around in my memory just waiting to be retrieved. Sometimes actually it is just to fucking hard to remember what I did when. Why? I believe it is because all my days seem to run into the other since I don't go off to work each day, and am required to know what day of the week it is and the date. Kind of puts into perspective the importance of life. Enjoy each day, do kind things to all, do what you need to do and want to do. It also gets hard to remember when now for three days I have lounged around in my in the house loungewear. I know, it is tough being me, haha!! When I go out to walk the doggies in the super cold snap, I put on another pair of pants over my loungewear. Layering is what it is all about. Those weather people said that only two more days of this. They are fibbing, because I know it won't warm up until June 2012 now. I have had super low blood sugar now in the mornings. So I have to eat a late snack of protein & some carbs right before bed. I also now put a Gatorade next to the thing I have to help me open the top. It is this little blue round rubber thing. It is very helpful when you don't have the strength to open anything because your blood sugar is too low. The last time my blood sugar was too low, I couldn't remember the correct way to test my blood. I did it wrong, I put the test strip with my blood into the meter after I turned it on. This low blood sugar is happening because that is what it does because of it being too cold. One's body is working hard to keep you warm, therefore it is tapping into your blood sugar. Oh the joys of winter!! I don't care, I just have to remember to eat more later again. This morning was better.
What am I dwelling on. Not much. Got a call from my son last night at 8:21 pm. He was leaving Urgent Care because he hurt his knee again, this time at work. He was going to be in a knee brace thing. He can do light duty work, thank heavens, because I don't want them to fire him. You know how work places are about injuries and workman comp. Now with so many people needing a job, he would be easy to replace. I just wish this didn't happen for him, and I get so frustrated with myself for being so mad about it. I think it is a control issue situation for me. I won't go into psychoanalyzing myself. Why bother at age 56, I pretty much know why I react certain ways, blah, blah, and more blah.
Oh, my two doggies are such perfect doggies right now. They are each sleeping in their doggies beds next to me, partially covered in their blankets, both facing in the westerly direction. I love them, and especially when they are like this. Cute little quiet doggies, it makes up for all the other times Sadie runs back and forth to look out the window. Malcolm doesn't do that so much. I will try to get my camera here without disturbing them to take a pic to show you all. Here I go and try. Wish me luck. Hey I did it. I will go and download the pics and get them here for you all to gosh over. Feel the warmth, I just snorted here, maybe you will too. I'm back, it takes me awhile to upload them and copy, etc. Here you go, the two cuties!!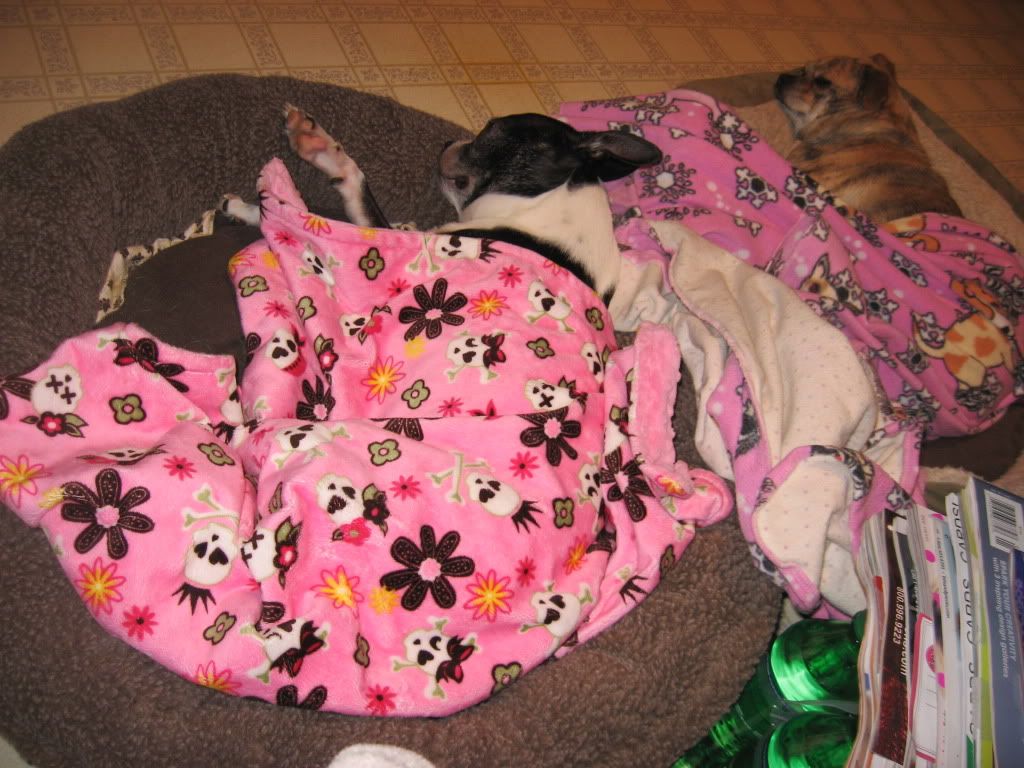 Here's another pic of the two buddies, only a close up now. I hope Malcolm doesn't mind the pink blanket.