Hey It Is June Already!! (2011-06-01 - 6:08 p.m.)
It is now official. It is June and a bonus was that it was sunny here all day. Alot of wind still going on. Little Malcolm sure doesn't like the winds blowing. He didn't go out much, but Sadie and Taffy sure soaked up the rays of sunshine today, they both are finally in the house now. I just got back from walking Malcolm and what a good doggie, he finally pooped.
Today I saw and watched alot of dragonflies. They are awesome to watch.
A kudos to me, I finally showered and washed my hair. I just don't know why I am so unmotivated to do this hygiene chore. My hair for one, dealing with the thyroid thing in my body, doesn't seem to get dirty like other folks does. My husband showers and washes his hair just about every day.
Our refrig is still holding on for now. We are getting our new frig delivered sometime on Monday. My husband told me that this current frig is 21 years old, so I guess it lasted a long while. He got the new frig on sale so that is saving us hundreds of dollars. This frig on sale was $1,200.00 plus the delivery fee is $80.00. They will also take the old frig away and dispose of it. I believe the new frig is a Sears Kenmore. Yeah, it has been so long since I have had a new appliance.
My son and his girlfriend are coming here for a visit this weekend. I have been collecting beading supplies for her. She tried to make me a bracelet and it was all broken apart when I got it. I make jewelry and have since I was a teenager. I am going to show her how to use tigertail and how to crimp. I bought her, her own set of tools. I figure that she needs a hobby like this, she doesn't do as much knitting, since I taught her that. She is very creative. I figure that being pregant and all, that this will help pass some of the time while waiting. I just have to stress the importance of keeping the beads safe away from their cats, and the baby that is coming sometime in November. You would think that some things like that, you would just know to be extra careful about, but I figure it doesn't hurt to mention it.
I took a short nap today. I really enjoy my quiet time. I lay down and read for a bit, and then fall asleep.
I can't think of anything else. Oh, I am going to start saving my spare money for my next tattoo. It may take me awhile to do this. Since I have more time then money, my tattoo idea, is of an old fashioned time piece surrounded with roses, in black and sepia looking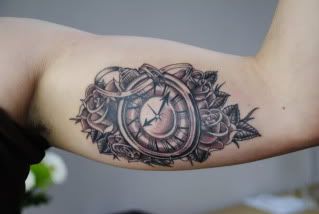 colors. I am thinking about getting just below my neckline and middle of my back. So I have a goal in mind here. Something to strive for. Maybe as a trade-off for all the daily walking I do. If I can walk everyday that I can. Rewarding oneself is a good thing to do. It helps to motivate yourself. I know that not everyone is into tattoos, but I like them. I have been getting tattoos now for 34 years of my life.
What am I pondering, not much. I have been on my hands and knees scrubbing our dining room floor. Next will be the kitchen floor. Like I said, I have alot of time on my hands, and thank heavens there isn't any snow to constantly go out and shovel. Now I am watering, and filling the bird feeders, the suet feeders, and hummingbird feeders. I did fill the bird feeders and suet feeders all Winter. We do it year round. I only use black oil sunflower seed. We buy three 50 lb. bags of sunflower seeds at a time, and three boxes of suet at a time. The mixed birdseed goes to waste, and the thistle is too costly. The goldfinches have enough dandelions to eat to yellow up their feathers. Oh and I am daily using the push lawn mower around the year. With the super huge pine trees there isn't alot a grass. We have done our darnest to seed, some of it takes and sometimes it doesn't.
Well that is all I got for now. "So You Think You Can Dance," is on again for two hours, followed by the start of, "Men of a Certain Age." So there is good TV on tonight for a change.