Checking.....and Glad to Do This (2011-02-06 - 4:32 p.m.)
Oh my gosh, it has been three days since I have written anything here. I have been busy taking care of little IdaMay. It is keeping me very busy besides taking care of the walkies with the two dogs, and taking care of Taffy also. I am working very hard at keeping it quiet and zen-like for IdaMay. She lays and sleeps alot between the one bathroom and where we now have her food dish and litter box. This photo was just taken yesterday.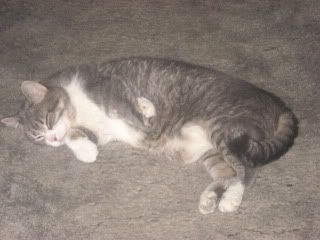 This one was taken awhile back when she was so much better.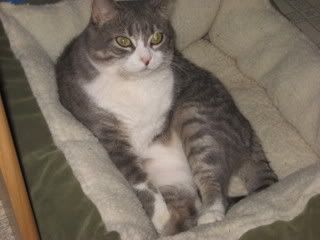 We got a lower litter box so she can get it in easier. When I hear her go in it, I go in there with her. She can't cover up anything anymore. I cover it and then scoop it out right away. I am also charting down everything with her. I need to write down when she poops and tinkles, because I want to make sure she is doing it. For awhile I thought that her digestive system wasn't doing the waste thingy, but then, bless her, she pooped. I am sleeping even lighter than I usually do, because if I hear her go in her litter box, I get up during the night also. I want to make this as easy as I can for her. She has had a great life with us, and she needs us alot right now. Taffy seems to also be leaving her alone more now. That back right leg of IdaMays is such a noodle. It is like she has no strength there, and it is all wobbly.
Thank heavens I didn't need to do any laundry today. My husband went up again on the roof to shovel off the snow, this is the third time. So I also went out and shoveled some more. I am glad that it is now February. Today marks the 100th day that I have been unemployed. I sure hope to find employment soon. I figure that I may have to look into my state retirement funds at the end of April. I can only extend my unemployment benefits for another 6 months at the end of April. I know that places aren't supposed to discrimate about hiring, but when they add up my experience, they probably figure, god, this woman is in her middle 50's. So it goes. I don't have much more to say about this. It is the reality of it all, so I need to face it, and figure out what I can do, to keep money coming in for me.
The Packer game will be starting in 15 minutes, and I hear my husband just came in from outside. Lake Dexter had its Fishing Jamboree also today, but stopped earlier than usual because of the game. You could hear music, and the festivies when I was outside. They had a super nice day for it. The sun came out in the afternoon. Not much else is going on. I only have a little more room on the shelves to put more books on, that my husband just put up for me. I am hoping that he starts soon again with the next set of shelves. I am just so glad to get a large majority of the books shelved that I had sitting around stacked in piles.
Nothing else, oh, my mom sent my son a $100.00 check so that he could buy himself a new pair of shoes. Apparently they must have been talking on the phone, and he mentioned something. Bless her for her kindness. He was so excited when he told me what ones he got. He said he hasn't had a new pair of shoes for a little over two years. He buys flip flops for in the summer. My mom's birthday is this coming Friday. I sent her Ghirdella(I don't think I spelled this right) chocolates. I was looking for a cookbook club of the month, but the ones I thought she would like, where way too expensive for my budget right now. I hope she will like them. I wanted to send her Godiva chocolates, but, holy cow, they are extremely expensive. I would love some of them myself, wouldn't we all. I can't eat alot of chocolate, like a 1/2 inch piece or so. I purrrrrrrrrr when I eat something sweet, I swear.
On that note, I don't have anything else going on. I have to go check on IdaMay. =^..^=