A Good Saturday So Far... (2009-09-26 - 4:15 p.m.)
The weather people lied again, they said it was supposed to rain today here. It hasn't, in fact it is sunshiny out and very nice. Early today while still in my cuddles inside, I decided that a 5 minute pity party for myself was what I needed. I have been so frustrated with my son lately and so I let it all go and when I was done, I felt so much better. Made myself a large cup of oolong tea, drank that, and then got dressed and went outside. I swept off the front deck, the claret sidewalk all the way to the mailbox. Here is a photo of some leaves on the claret sidewalk.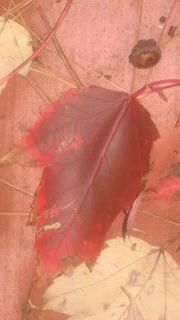 Then I raked back from the sidewalk all the pineneedles and leaves, then I put them in the wheelbarrow and my husband took them to the pile. Well low and behold my husband loaded up the back of the pickup truck, about three times I think and hauled it away. I do believe that he is taking me seriously, that the week of Oct. 19th if he hasn't hauled it all away to the communal pile way back in the woods, off the Island that I will burn what is left of the pile during my vacation one night. So maybe off and on this week he will continue to do that, because we have alot of raking ahead of us until the snow starts to come around here. I rake until the snow stays, then in the Spring the oak leaves that finally blow off the trees in March or so, I get to rake again. My husband also trimmed back some of the oak tree directly out front here, like wow, I am so glad. Then we went around the lot here and I pointed out a few more limbs that I think need to come off and be hauled away. We will see if that gets done. I don't nag, I only point it out once and then it is up to him. Tomorrow the Packers play again at noon, and that means I know what he will be doing. Idamay was a happy cat today because she spent most of the day outside, she hears something that scares her and she wants in, so we do this in and out dance, which doesn't bother me at all. Sadie has to have her time in the sunshine also, otherwise she whines inside the house. Then there is Malcolm who is content to just follow one of us around the yard. Taffy moves around inside the house with the sun and is happy. It is amazing to look out the front window and actually see farther than the oak brances hanging down. We left enough so that the hummers have their hiding places among the foliage. My husband saw a hummer yesterday, so I am not taking the feeder down yet. The northern ones must be coming down and passing through now. My mom said that the hummers that frequented their feeders have left and she took their's down. So I will give it one more week, the hummers journey is a long one to the southern states.
What else, it is tea drinking season coming up. My favorite tea is oolongs. I have learned to never ever oversteep tea, then it will become way too bitter. What is everyone's favorite tea? For awhile I was given Tea of the Month club from TAZO. Tazo's Passion tea, I think is is called is yummy, plus the color of that tea is beautiful. I got that color in one of my flower tattoos, I liked it so.
What else, nothing I guess, just glad for the weekend and two days off from work. I never used to feel this way about my job, so I have to work on this, because it makes going to work very hard some mornings. We are watching a movie I recorded called, "Mirrors," with Keiffer Sutherland in it, and it is scary. My husband thinks he read a short story many years ago with that title.
OK then, this is all I got for now.