What Do I Call This Entry Today.... (2009-07-01 - 6:00 a.m.)
Wow it is already Wednesday and July 1st, where did June go to, though really, really glad that is over. Moving on to another page of a new month. Have to say that I got a little, teeny, tiny amount more of sleep last night, that was so awesome that I just needed to write it down for myself. Like who the fuck cares if I slept better, other then myself. My pets also were less restless last night. My MIL is still in the hospital, her BP was through the roof. They called my husband, so we know the drill, who doesn't by the time you reach this age and are there to be supportive for your relations. So I have pretty much gone and sat in the hospital every day since last Thursday. I sure hope that she improves so that she can go home. That is her biggest topic besides, that she says she is dying and wants to get that over with. She is 80 years old and maybe she is just fucking tired of all the shit going on with her body. I just am there for her and listen to her.
I started knitting again last week, I do more knitting when I am sitting at the hospital with someone. So now I am knitting at work during my breaks and after I eat my piece of chicken at lunch. I need to get back into reading. Apparently I haven't been doing too much reading lately since I finished up reading, Stephen King's book, "Duma Key." That was a good read.
What else, it is colder than usual here in Central Wisconsin. In fact you need a coat, sweater, or some such warmer garment over your summer shirt. Though starting tomorrow the weather people are stating that we will have a super lengthy stretch of sun going to happen here. Whatever....I don't really care, sun, rain, snow, whatever...there is nothing we can do to change it. I do what I am going to do anyway, what does weather have to do with it. You do and go if you have to. I really don't know why people complain/whine/ or whatever about the weather when you can't control or change it. Someone having super duper weather powers would be so disliked, that would be an awful tough job to have. You most definitely wouldn't please everyone.
OK this really is it for now. I just had to take this photo of one of my doggie's, his name is Malcolm, we didn't name him because he came to our family with that name, being a rescue guy. Anyway, I love this photo, I do believe that little Malcolm is looking at his shadow. I so do wonder what goes through their minds. So here it is: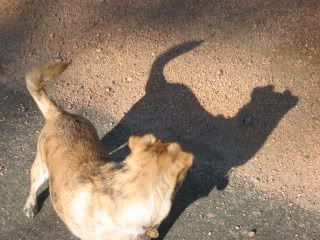 It just makes me smile, a really biggy smile! ENJOY