Just Fine & Dandy..... (2009-05-24 - 6:11 a.m.)
Well let's give this a shot, I mean doing some writing here this morning. It is quiet to begin with. Sadie and Malcolm are sleeping, lucky doggies, Idamay is laying in the downstairs hallway and Taffy is upstairs, more than likely looking out the window. I can hear a few birds outside, they start feeding as soon as it is daylight out. I didn't go anywhere on Friday or Saturday. I did get dressed both days so far. I probably will again today, get dressed so that I can go and walk the dogs. My husband went to GB yesterday morning. He and my son went to "Star Trek," but first a visit to Urgent Care there for my son. He has huge tonsils with dripping pus from them, is exactly what my husband said to me on the phone. He got some antiboditics and pain meds to take. When my son gets a throat and or throat/sinus infection combination he gets a humdinger. I asked my husband to ask my son if he wanted to come home here for a few days. He said no. He has until June 8th off now from school. He will have class Mon., Tues, and Friday evenings(12 credits.) He also earned two A's in the two classes he just finished at ITT. So he will be busy. Back to the throat thing. I asked my husband if he thought it was the swine flu, and he said no. They cultured the throat and now my son has to wait. So I will worry about him, my husband is having bowel/digestive issues, so much so that he has a colonosophy on Wednesday pm, I took the whole day off since I am the driver. I have alot on my mind, and I just have to keep my health ok so I am there for everyone else. Yesterday I did one load of laundry, I made orange jello and I put a banana in it. I washed the dishes. I kept busy doing puttering around the house stuff. Today I will wash my husband's winter jacket, hat, and gloves. I also want to keep to the same routine, so I will shower and wash my hair even though I have another day off. The mosquitos are so thick here, that it really isn't any fun to be outside, so I am limiting being outside just for walking the dogs. I don't want them out to long either because I don't want them biten up. I did some reading while I took a jaccuzi bath on Friday. I so love to soak. I really should do some more housework, but I doubt I will get to that. The man's wife and grandson came yesterday from across the road, she also brought there new dog, which has gotten really big, and their older dog, named Zoey. So you know my two doggies are all nosey and barky at times. The neighbor I don't really like to the south is also here, but so far, all the relatives aren't. So we will see what today brings. The greens of the tree leaves are so vivid and intense, the color just pops. I really don't have much else. My husband should come home today unless he feels the need to stay with our son another night because of his throat. My husband works on Monday night. All things considered, the days are going just fine. This is Taffy the new one from work, she has two front legs. Both Idamay and Taffy have similiar coloring and green eyes. They could be related.
Here's picture of Idamay and the shadow of Malcolm, I took this photo from outside looking in.
This photo is the three pots of flowers I just planted during the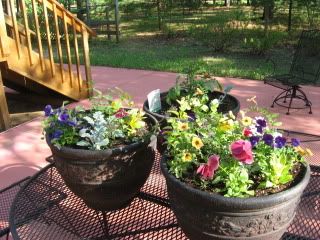 week.