Sunny & Fair She Blows..... (2009-05-03 - 7:53 a.m.)
The sun is coming in so glowing here through the front picture window. Sadie, Malcolm, and Idamay are all stretched out and basking in it. I feel like I should be doing the same. Though and I have done this, when I lay down on the floor with them, they all go super duper happy and excited on me. So I won't disturb their peacefulness at this moment. Here is a photo of the three.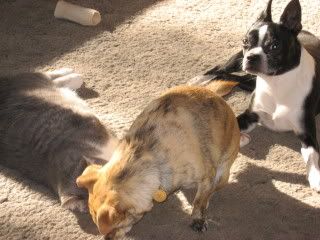 I went to Shelfrani, it is spelled something like that. I am a terrbile speller, remember. So I went and moved a couple of books to the I've read section, and I noticed, "Lovely Bones," I really so enjoyed reading that book. It was so thought provoking. Now I hear that they are going to try, I say try and make a movie out of it. I prefer my imagination to going and seeing how they portray everything in a movie. They usually wreck it.
I am so into, "Duma Key" right now. It is over 600 pages, but I have already made a big dent in it last night. I will continue today again, I have to find out how and what he is going to do. Dovesanddust, said that her mom suggested to her that she would like reading this book. Well I would like to say, I am really into it. I don't dare bring it to work, because I got told not to read at my desk, people are watching. Is reading a crime. Though now I only read during my breaks and lunchtime. If I ever lose my job because I so love to read, then so be it. There are worse ways to be fired for. I smile hear because the person who mentioned this to me, one isn't my boss, and this person doesn't spend much time doing any reading, so there, I am sticking my 53 year old tongue out at you. Now I feel so much better.
What else....nothing really. Someone, bless their soul read through over 100 and some pages I wrote yesterday. Thank you, I think. I think that sometimes what I write is kind of boring. Then sometimes I really have some deep thoughts. Though writing about the last 3 years and going into 5 months, since I had that near death bacteria in my body has helped me let it go and to realize that I have come a long way. I have to keep on now, especially to help my son out and his family. I have a reason to keep going day in and day out. Do it for the love of my family.
The guy across the road from us, had a little party going on last night. His blinds are still down this morning. So who knows how late they were drinking last night. This man always has bottles, which I can see through his garbage bags. He likes to drink to be happy, whatever. I really don't care, I just don't want any super duper noise going on to bug my pets. So he and a few of his friends started the summer so to speak early this year. Usually they wait until Memorial Day. We here are quiet people, the loudest two are Sadie and Malcolm. The bark to protect their home is all. Sadie is now quieter than Malcolm, she apparently has decided that he can bark a bit. So if we can put up with the late four wheeler noises, and the trucks reeving up because they have drunk a bit too much late at night, then they can turn the other ear, when my buddies do a little barking. Otherwise go suck on an egg for all I care, so there. Sometimes I laugh at myself because I regress, I sound like I am under 10 years old.
That is it for now...until again.