There is Always a First... (2009-01-01 - 6:46 a.m.)

Yeah for the new year, though doesn't it seem like the new year is here in the middle of the year. I do believe that a fresh new year should begin sometime in oh, let's say April when nature is exploding in new growth. That is my thought about it all.
Malcolm is one year old today. Does he know it, nope. Does he care, nope. He is just one happy super doggy, or at least I think he is. So Happy Birthday to little Malcolm today.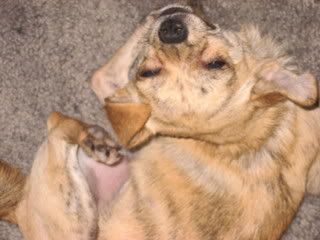 I wonder how small he was when he was born. There should be some way to find this out. I can ask the person I got him from, and she can ask her friend if they have any early pictures of little Malcolm. That will be my mission for next week.
I really got nothing else going on here. I woke up at my husband said around 2:30 am, Idamay was licking my forehead. I was shaking and ringing wet. Oh fuck, low blood sugar. I climbed up out of my fog, it feels like I am swimming up to a surface. My husband got up with me, and opened my Gatorade. I had Gatorade to spike my sugars quickly and ate about 3 ozs. of chicken breast. It is very hard to swallow, let alone chew food when you are riding on the low blood sugar train. You want to spike and ride sugar to your brain. After awhile I was better, and then I got to thinking why was it so low. I ate my bigger portion of food around 4:30 pm yesterday and had a snack around 7:30 pm, apparently that is not enought. I usually don't eat until around 6 pm on the days I work. So eating too early isn't a good thing for me. Oh well, you just have to deal with it, is all. I have to say thank heavens for Idamay, she seems to know and helps me. Thank you so much Idamay.
I am baking two large packages of center cut pork chops right now in the oven for my husband. It is with mushroom soup and seasonings. I also put three baker potatoes in with it to bake. He can have that plus a vegetable today. He works tonight and tomorrow night. They called yesterday and asked him to also work Saturday night, but he declined. He always thinks he should say yes, because they can fire him at any time. I said that if they do that, it is there loss. He will find employment quickly. Nurses are in high demand around here. Things change in life, and we are both very greatful to be employed.
That is about it here, I want to take a jaccuzzi bath today, that would be nice, and probably a nap. I hope that nobody feels the need to call us here today. I should get a thank you card out to my parents, and one of my co-workers hurt her knee real bad, and has been off work already for a week, and it will be another week yet. I usually would have sent a card a day, I make them, out to her, but I really haven't been to motivated, so I think today I will get one done and send it out to her tomorrow. It is always a good thing to be kind to others.