Monday Musings... (2008-12-15 - 5:01 a.m.)
When I called my folks yesterday to see what their weather was like up there, I talked with my dad first, then he put my mom on. I had decided that if she happened to ask about my son, I would tell her what is going on. She asked if his address is still the same, because she wanted to send him his Christmas. They haven't heard or talked with him since October. Here was my opening, I told her about the eviction notice and how I had paid their Oct. and Nov. rent with checks, so that there is a record of those two months being paid. My son also told me they have all of their receipts. I hope that they don't get evicted. It is awfully cold out, the weather guy just said -50 degrees out here with windchill. I also told my mom about my son more than likely going to do 7 connsective days in jail because he can't pay the $500.00 fine for tresspassing. He was living in an apartment with a friend, paying her half each month's rent, but since his name wasn't on the lease, you know the law. This supposedly friend didn't even come to the hearing and say anything. He has until Dec. 31st, 2008 to pay the $500.00. So I told my mother all this. I figure that was enough telling. I said to my mom, that she should go ahead and explain all this to dad, or I could, well she said that she didn't want to stress him out, so she wasn't going to tell him. Gee, I realized than, that this is paritally where I get the keeping secrets way from. My mom just by saying that enabled me again to keep my son's secrets. There has been so many times I have so wanted to tell them about their two great granddaughters. My son asked me five years ago plus to not tell them. I have honored that request.
I just want to write here that I appreciate the positive comments I do get. When I read other people's journals, and I leave a note, I always want to leave a positive comment to that person. The person who wrote what they did, needed to do that, they need a place to write and tell the truth, to release their thoughts and feelings without judgements made. They don't need someone else to expound their values and/or said judgement on them. We are all human, we need to be there for others, we don't live that other person's life, and we sure don't know it all, and/or the ramifications of why a decision was made. So being human, and compassionate, I only want to give positive support in the words I leave you. So again I thank you people for leaving some very nice comments.
Gee we are really going in the deep freeze this week. Oh boy, I just sure am hoping my fan and heater work alright this week. Also that the car battery kicks on ticking. I will probably have to go out during my lunch break and start my car, just to let it run a bit. I work all of the five days this week. That is alright. I need the routine of the day to help keep my mind off of my son. It will be a trial to stay warm this week, I am not looking forward to this for my body. I might as well just accept the fact, that I will be running around with low blood sugar. I was thinking about life in general and how we just never know what we will be dealt. You just have to roll with it and make the best of it. Oh well, I don't want to get too philosophical here this morning.
Let's try to be random here. I woke up early this morning. It was 3:43 am, and I didn't go back to bed after putting the dogs outside. They are sleeping covered up in their little doggie beds.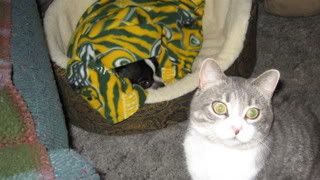 I checked the road conditions and it said just some slippery spots, so that is better than I expected, besides the severe cold out there. The house is just continually making cracking sounds. I have the house temp up at 72 degrees and I am still cold. I have layers on, and that still isn't enough. I am so not looking forward to going out and sitting in the cold car. I need to go to work and finish the client's payroll. I really don't have anymore rambiling thoughts going around my head, so that is about it from here.