A Little of the White Snow... (2008-11-30 - 9:00 a.m.)
When I got up this morning to put the dogs out, it had and is still snowing here. Here is a photo of it: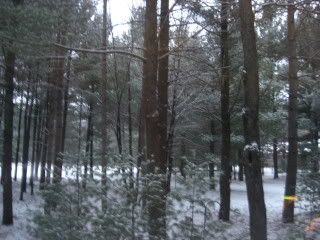 Here Sadie and Malcolm out in their area, doing what they do when there is fresh snow. I always wonder, what fresh snow smells like to them. They always do this: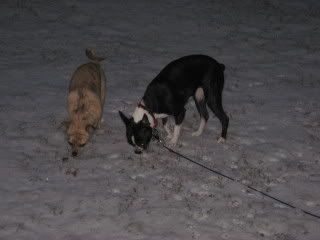 I have another dish of chicken breast baking in the oven, it will be done at 9:30 am. My husband got home from work and he said the roads were slippery, and my comment back was, "you at least stayed awake." It is so peaceful looking out with the slow, soft flurries of white coming from the sky. At least I don't have to drive in it today. We finally got some snow here, they kept saying we would for the past 4 days. The Packers will probably be playing in the white stuff at noon. I really got nothing else going on here, maybe a little nap, and the usual have to shower and wash my hair bit. I hope to work some more on the project, I just want to get that done and off my mind. Last day of November. Wow, hard to believe.