Hump Day.... (2008-10-22 - 10:09 a.m.)
My mom and dad are now in Myrtle Beach, South Carolina for another day. I hope that it is great weather there. They will play around in the ocean.
Here is a picture from today of Idamay...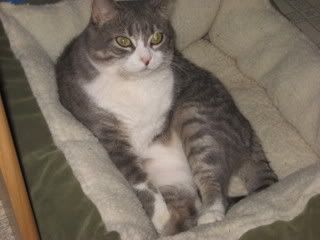 I woke up this morning and I do believe that I feel better. My body could move a bit easier and I wasn't with a fever. Yeah........now just to stop sneezing, blowing the nose, and that annoying cough. Oh well, like what else was I planning on doing over a week's vacation. Now I have had a reason to lay around and try, I say try to get a couple of naps in each day.
I watched Oprah yesterday, and I was glad that I did. Oprah had on the doctor who wrote, "Stroke of Insight." I ordered it because I am sure my husband would love to read about it, and it sounds like the woman totally changed her outlook of her life. I always talk about living in the moment, and she just reaffirmed it.
I still haven't taken a jacuzzi bath, the old BP is running a bit low, like 98/52, WTF. I can't even exercise when it drops so low like a whisper. When you exercise your BP goes up for a bit then really drops, and I don't want to drop to the floor. So another reason, oh to love diet pepsi and caffeine.
So what else, not much, which I always say is a very good thing.
Here is a picture that makes me smile so, now though I have to work on getting all three in one picture.