Some of The Tattoos.... (2008-09-25 - 8:26 a.m.)
Boxxxx wanted to see some of my tattoos all together. I have some on my chest, that has a hummingbird and flowers, viney like. which I don't have a photo of and a small one on my ankle, flowers and intertwining vines that one needs reinking, but since it is on the bone and that one hurt like heck. So I posted here some of the others I found.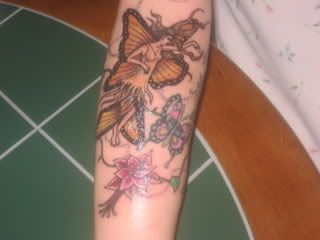 The new tattoo is on the same arm as the Spiderweb Fairy and the celtic designs. The Autumn Fairy has the red irises and chinese symbol and smaller butterflies on it. Each tattoo I have had inked, signifies a part or turning part of my life. I started getting tattooed when I recall around age 21 or 22. I love the Autumn Fairy, the fall colors and a celebration of my turning age 52 and conquering almost dying.
1465.jpg" target="_blank">