A Great Day.... (2008-09-23 - 3:48 p.m.)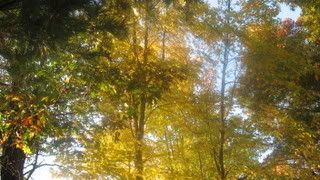 The leaves in our yard are turning, the pine needles are yellow and blowing down on the yard as I write. My husband has to clean out the rain gutters, you can see them overflowing with golden pineneedles. It is an awesome day here in the 70's, you couldn't ask for a better vacation day.
I got the birthday presents all wrapped up and boxed, and my husband took it to the post office this morning. I took a little nap, and all that is left to do is take a jacuzzi bath. I made pork chops and brats in the slow cooker when I woke up this morning. I put a jar of cinnamon applesauce in them also. My husband said the pork chops tasted better with the apple sauce, so I know in the future just to cook apple sauce with pork chops. It smelled so good in the house today. House is a new one tonight, so I am looking forward to that. Other than that, just a great day to be alive and kickin'.