Gee, Another Friday Already.... (2008-09-12 - 6:10 a.m.)
I thought that I would write in here a bit earlier today. I know I don't have a whole lot to write about. I couldn't write anything yesterday with it being 9/11. I just wanted to think about how life changed in a blink for so many. It can never be the same or as good for them ever again. Moving on here.
Here are a few photos. The first one is of my Sweet Sadie.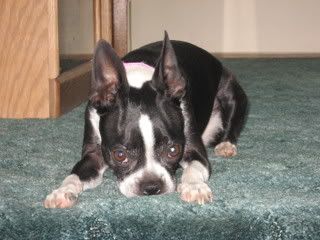 Here is one from a day ago after Malcolm had his surgery. He spent alot of time on the bed, chilling with a bone.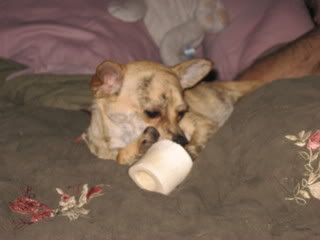 This was taken last Saturday or Sunday, it is what I see when I look out one of the windows in the living room. Looking south it is.

I sure am glad today is Friday, though each day for me really is just another routine day with another name. I am not bored at work, I am just tired I think. I need a rest. So I am sort of glad that I have a week of vacation coming up. I don't really have any plans, I will just go with it. Do what I want, when I want to. Yupe that is the ticket. I need to stop and just be still for a time. I need to let the words flow and write some poetry again for awhile. So we will see what the week off brings.