Saturday's Ramblings... (2008-08-30 - 8:33 a.m.)
Here is a beautiful white rose photo.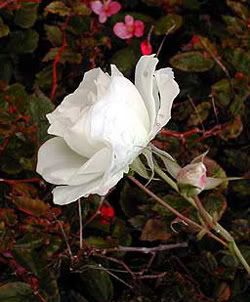 I am watching BB10AD(big brother 10 after dark). When this is done the 5 remaining house guests will do the POV. I am sure that will be grueling. They have been inside the house for a long time. We will see. I hope to glean some news when I watch Saturday night BB10AD on Sunday morning. Now I am clicking ahead because there are down times when the house guests aren't talking. I walked the dogs earlier and our neighbor had a fire last night and now it stinks outside terribly. I had to pull my t-shirt up over my face. There isn't even a breeze out there to move the smell and residual smoke. At least we run the air in here. They don't have that and their windows are all open. Our air lock to outside smells smokey even, so I can only hope that the inside of their place stinks and they won't do that again, one can hope. The guys wife is going to be there until next Sunday night she told me. I bet her husband isn't too thrilled. She brought up the dog and two newer additions to the family. Two cats. She told me she is a cat person, just like my husband. Zooey is really old. I am actually surprised that he made it through another summer. He isn't as old as Katie was, but he is a huge dog. He has to weigh at least 90 pounds, and Katie only weighed when she was in her prime 72 pounds, all muscle. Anyhoo, the neighbor guy as I have written before likes his solitude. In fact they went out to eat last night and I saw him in good clothes. The only time I see that is when his wife is here. She brought her son and grandson along and apparently the other son will be coming also. Their sons, at least the one has had alot of financial and substance problems. I hear this all just by being neighborly for 10 minutes, and listening. I don't have alot to say, I just am glad to be up and moving, alive!!! Well each dog is in a doggie bed, they aren't together, that is different. I see through the window that fire is smoldering and picking up and it is blowing right too their house. Karma, I do believe in karma so I don't like to think anything bad about anyone or anything. The husband is still in bed, he has to, he says, whatever. So probably when he gets up I will go take a nap then for awhile. Maybe we can play Scrabble this afternoon. That would be nice.