Another Monday.... (2008-08-04 - 6:33 a.m.)
Well this is my second writing this morning, I don't know where the first one went. I was uploading pictures to photobucket and I was writing also. So what I wrote is gone. Here are two photos of the "Together Girls," aren't they so sweet. They are actually hoping to go outside on the deck.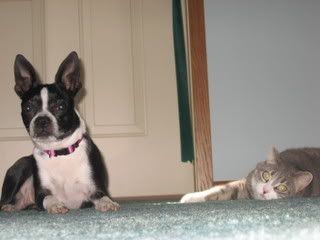 Here is another photo of them, they spend alot of time together on the couch. I don't know how Sadie can lay on her back like that for so long.
I wrote alot in my first entry so this one will be short.