Saturday Fun..... (2008-06-28 - 6:59 a.m.)
Another Saturday is here again! Whoppee!! Yesterday my boss came over to my desk and she had my yearly review in her hand. She said another good year, blah, blah, and more blah. Then we came up with three goals to achieve for the upcoming year, and then I signed it. It took maybe a total of 5 minutes. Nothing major, just get it over with. So another year to be a county employee. Today I get my hair colored. It has been 49 days since my last hair coloring. I do need it, that is for sure. We are getting a new side door and frame put into the garage today, the guy, who built our cedar decks is doing it. The man is a perfectionist, and that is why my husband really likes him and his work. I would have to say my husband likes things very nice and well made and done. So my husband doesn't seem to mind paying the bill. I will look for a picture of the back deck just to show you all.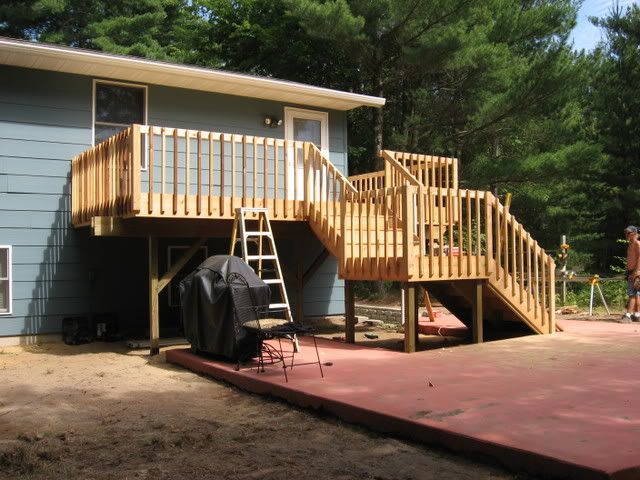 My husband took thousands of pictures of the building of the new addition, I think it has been 5 years now, to the pouring of the claret patios and sidewalks, to the two decks being constructed. So while I am gone getting my hair done, my husband will be occupied, they visit a bit. Other than that, what else can I say, it apparently rained here again last night a bit, so I don't have to water today. My husband went grocery shopping yesterday, and oh my god, he bought something that wasn't on his list. He always says, "if it isn't on the list, I really can't get it!" So he likes the drink, by SoBe, and he buys alot of them. I know for a fact, that wasn't on the list, and there are alot of SoBe's here now. So his comment now if forever null and void in my mind. He wouldn't agree, because, he said it is on his "mental to get list" now. Hey I say that, I have my routine food items to buy on my "mental to get list," my husband can't use my phrase. I do believe that we have been together for so long that we are starting to sound alike. Thank heavens we will never really look alike. I am so dark, and he is so blond and blue-eyeed. The wind is really blowing through the trees, hopefully it will keep the bugs at bay while the work is being done today. I know that Sadie will want to be outside and watching, and Idamay will watch it all from her window place. That is about it. I will have to get dressed soon to go and move my car out of the garage.