Having a Good Day....So Far.... (2008-04-30 - 5:54 a.m.)
It has been awhile since I wrote anything here. I have just been going along day by day, nothing major going on either, thank heavens. My son's small claims court thingy is done. The woman never showed up to court so my son won and now her paycheck will be garnished. Over and done with now. Found out last evening that the mother of my son's baby number two, her and the baby will be moving up to Green Bay around or on May 17th.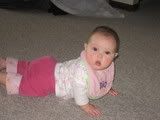 She got a job transfer up there with the same company. I sure hope that life goes alright for them. Now my son won't be all alone, plus he will get to know his daughter, and step up to the plate, being a parent.
I walked my dog twice yesterday, once right away when I got home and then a much longer walk later on. Those little legs were doing double time, so I must have been walking awfully fast myself. It sounds like today will be the last dry here in Central Wisconsin. I don't really care if it is cloudy or rainy, but my husband does. It brings his mood down. I am not whining or being selfish here, but damn, I wish he wouldn't get so down sometimes, and especially let the weather affect him so. I am always there for him, but you know sometimes I get so tired of it. I have suggested so many times, that I have stopped suggesting it now after all the years of suggesting it, that he should look into one of those lights to help. Since he works nights and sleeps days, I think it would help. I have even sent for info on them and asked him to pick out one, yet he still doesn't have one. I can't do and be all for him. So if this sounds whiny or just plain not nice, sometimes it just helps to get it written down.
Not much else is going on around here. I ate my 12 wheat crackers already this morning. Sadie(little doggie) and I were up at 4:50 am, so I am sleeping in much later than usual. She is now curled up in her bed next to me, covered with one of her many doggy blankets. She is so spoiled. That is about it for here, over and out. Have a good day people.