Saturday & the Casserole is Made..... (2007-12-22 - 7:48 a.m.)
So today is Saturday. I was up a few minutes before 5 am. I made the doctored up TACO casserole, just like the way my son and husband like it. It is cooling off now on top of the stove.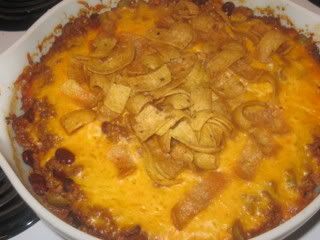 That is done. My son got here at 6 pm something last night. He left Green Bay at 1:03 pm, he called me at work to tell me this. It doesn't take that long to drive from there to here. He stopped to shop and eat. It was so foggy out last night, that of course I was beginning to be a bit concerned, then I let it go. You can't do anything about it, so stop with the worrying I told myself. He went to bed early for him, and is still sleeping. My husband should be home soon from work. He has to stop and get noraml milk for his cereal, not soy and I suggested he pick up a you tell them what you want on your pizza from Baum's grocery store for the Packer game on Sunday. After the weather starts coming in here this afternoon, I don't think anyone will be able to go out tomorrow morning. I just hope that no one has any medical emergencies, etc to deal with. Other than that, I did bring my knitting home from work, and the book I have been trying to read there at times. I am just glad to be off work until Wednesday. I put together a little Christmas package for our mail carrier lady. She has to alot of times get out of her car to bring up to the house packages, with e-bay stuff you know. So she deserves a few goodies just for her pampering. I crammed as much as I could into the bag and wrote out a card thanking her. Other than that, if my son gets up early enough, we may run to Marshfield, he wants to get a haircut, and needs underwear. I thought I could also treat him to a light lunch. I will sit and drink a diet pepsi and watch. I thought I would buy him at least 10 boxers. I will have to take a photo of him before his haircut. It all depends on how early he gets up, because I refuse to drive in yucky conditions if I don't really have to.