How Dark Is It? (2007-12-16 - 6:55 a.m.)
How boring can an entry be I wonder? I really don't have any ideas about what to write here. Yesterday I washed colored clothes and I realize that they are still in the dryer. I trimmed little Sadie's toenails and then filed them so they are so scratching feeling on you when she pushes off of your body at night under the covers when she is sleeping. As for today, being Sunday, I have to shower and wash my hair, whoppee, shades of excitement. There is another noon Packer game on today.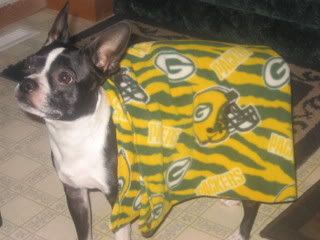 I should have done some gift wrapping yesterday but I didn't get to it, how could that be, it isn't like I am super busy and have gobs of company stopping by for a quick visit. In fact, the guy who lives across the road from us apparently left during the early evening, I think it was Wednesday, and isn't back. I decided that he went to the city in eastern Wisconsin along the big lake to spend some holiday time with his family. I wonder how long he will last. I think he will return on Dec. 26th. He hardly ever leaves here, so I was surprised. So there are no lights on across the road, and it is very dark here at night. The woods is dark. It is so dark it seems thick, like it has mass. Then you flick on the shed light and porch light for putting out little Sadie, and there is a space of light in the dark, just for her. The fine line between light and dark is so slender. So for not really having a writing topic for today, I kind of randomly wrote a bit. It seems like I have been up for awhile. This week I work five days. Not much else for now. I have to come up with a brainstorming list of unusal writing ideas.