Finally I Can Sit Long Enough to Write an Entry... (2007-12-07 - 5:50 p.m.)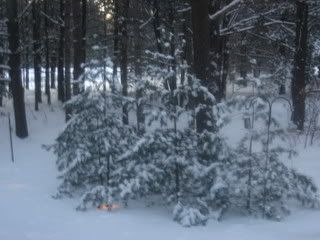 This is a nice photo looking out into part of the front yard. An update on Sadie's three doggie shots. Oh my was she so sore. She would cry at times. She couldn't jump up onto the bed or off. She couldn't do anything she normally does. I felt so sorry for her. Tonight she is so much better, she is eating again, doing her stretches. Sadie is a stretcher. She stretches on the bed before she jumps down, she stretches twice front and back legs before she goes outside. She is so cute. I am just happy to have my happy Sadie feeling better.
I haven't written in here for a couple of days myself, because I was having a food intolerance problem. I was up to my max on my meds for diarrhea, and have lost 6 pounds. I also had a vaso vagal reaction with full body shivers. That just about puts me under, the fucking body shivers. I have, I think almost rehydrated myself. I have put 3 pounds back on. I can't keep much in my right now, and that is bugging my blood sugar. I can't just drink Gatorade. The last time I was this bad with my digestive system I ended up in ER and missing a couple of days of work I think at the end of July or the beginning of August. I can't remember. I most definitely try to forget about them after I write them down in my health log for my specialists. I really worked hard at feeling better today, because tomorrow I have a 10 am hair coloring and cut appointment, and damnit a woman can't miss that. So that is the news about why I just couldn't do any writing for a couple of days. Thank god for my husband, his being a nurse and just so awesome, he had to take care of Sadie and me, plus he has to work tonight. Please no comments about feeling bad for me, it is something I just have to deal with in my everyday life with food.