Random Thoughts... (2007-11-08 - 6:14 a.m.)
Don't really know what to write about. It is Thursday all day, that is a no brainer. It is cold here again this morning. My little dog Sadie just came out into the living room area about 3 minutes ago, hopped up on the couch and waited to be covered up. Apparently her "doggie daddy" got to hot for her. Sadie sleeps under the covers and my husband gives out so much heat, he makes me "hot" just thinking about it! (I giggle here about the pun). Oh, today is payday at work, which is alright. I am still working on the project that needs to be completed tomorrow for my boss. It is a boring, data entry project, need I say more. I found my gloves finally, my hands have been so cold hanging onto the steering wheel until the interior of the car warms up. These are just random thoughts that are passing through my head. I have 24 minutes before I have to start getting ready for work. I ate a whole wheat organic bagel with my one med this morning. I think I ate too much, oh well, it was damn good, and I just completely ate the whole fucking bagel. I can do that once in awhile.
My cat, Idamay, was playing with an oak leaf in the house this morning. I wonder where she found it, and I wonder where it went. Idamay also likes to play with those small computer disks, I have found them all over the house. Every once in awhile my husband is looking for a certain disk, and I say, well gosh, go ask Idamay where she left it. So now if we can't find something in the house, we both say, the cat got it. You know, she just might. Idamay really loves emery boards also. I am always having to buy new packages of emery boards. She also likes to push around the Carmex containers, so I am always buying Carmex for myself. So you can imagine the haul I find when I do a super clean up the house job. Sometimes I fill half a bucket full of stuff I find under things, behind things, in couch cushions.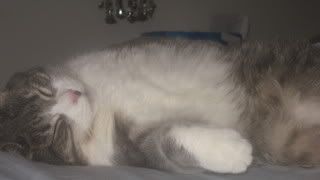 For a three legged kitty she sure is into commerce and the moving of goods. With all this said, I guess I did have a bit to write about.