You Have to Love Saturday.... (2007-11-03 - 5:41 a.m.)
This is a photo taken I would say about a week ago. It is some of the few maple trees that are in our back yard. I just love the way the sun makes the leaves glow. Now all the leaves are gone. So I just wanted to enjoy the splendor once again.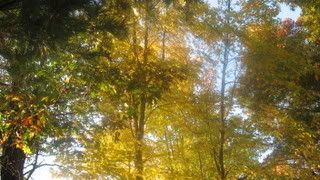 So of course I am up already. Gosh you know this getting up so fucking early can get old sometimes. What do I care really. Today is Saturday, which means, yes, a nap, some knitting and reading, perhaps a jacuzzi bath can be fit in. I will walk my dog if it doesn't rain. In the paper yesterday, there was an ad for boston terrier puppies. They aren't too far away from here either. I would love to go see them. We will see. My husband works tonight. That means we are back to the usual life around here. That is alright. So I have to think about if I want to go and see some Boston Terrier puppies. It is really hard to go see puppies and not bring one home. I am such a sucker. Anyhoo, that is about it for around here. Oh I have to probably start planning the "guys" menu choices for the week of Thanksgiving. I am off that whole week, so I can cook as much or as little as I want. Last night I asked my husband what he was hungry for, food wise that is(he always says me)and of course he doesn't know. He is so easy to cook for as long as I don't include brocoli in the dish. I am going to leave it up to him because I don't know what to make anymore. I have been making way to many pork dishes for him. OK then, over and out from here.