Got To Remember... (2007-10-26 - 5:17 a.m.)
Here is a photo of my second granddaughter.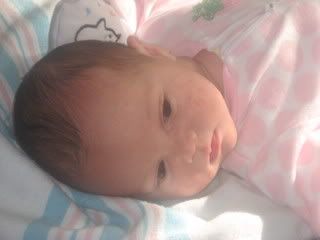 Today looks like another day of some sunlight for awhile. We need birdseed so I am sure later on my husband and I will go to town. I need to pick up my paycheck. While there we will get grocercies and whatever else is on our list. If we didn't have a list, we wouldn't remember a thing sometimes. God forbid if one of us lost the list. I have lost a list or two in my time. I also have forgotten where I put it. I just punt then. I have my mental list always. Antibodictic free chicken breasts, organic chicken broth, bananas, fruit for my husband, luncheon meat & baby swiss cheese for my husband. Diet Pepsi in bottles for me, Diet Coke with Lime for my husband. Dog and cat treats. Always, most always a 24 count pack of toilet paper, you can always use that. Oh a box of Frosted Flakes cereal for my husband. These are just the usual on my mental grocery check list. What is on your mental grocery check list?