How's That for a Sunday.... (2007-10-21 - 8:58 a.m.)
Besides what I listed yesterday what I would do on my first day of vacation, my husband and I drove through the Sandhill Wildlife Area. We haven't gone there in years, in at least 10 years my husband thought. We live less than 10 miles from here. Anyway, the three of us went, which means Sadie came along. Here is a great picture of two oak trees hugging the little dirt road path. The truck barely made it through there.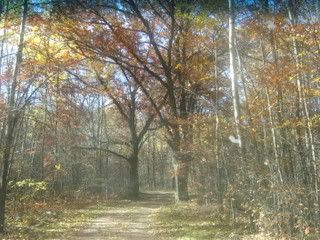 Here is a picture of one of the many marshlike areas in Sandhill Wildlife Area. Every year you can see flocks of Sandhill Cranes coming into the area.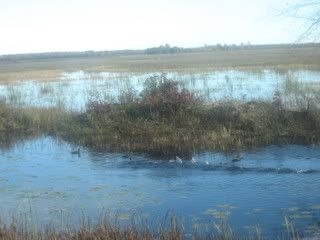 That was fun to do, going there. I also walked with Sadie one mile yesterday. Early in the morning we drove the walking route to see how long it was. If I would have done the whole walk, it would be 1.8 miles. I couldn't do the whole walk because my upper thighs were beginning to feel like rubber. We made it home alright. Sadie walks fast, so I do my best to keep up with her, there were a few times that she would stop and turn and look back at me, she was probably thinking, that, "she would do better and walk faster, if only she had four legs too!" I also made my husband the chicken alferdo with lots of mushrooms and baby ears of corn. Apparently when I took a picture of it, I held the button down too long on the digital camera, and now I have a video, who knew it could do that. I am still trying to figure out how to take a still from one of the frames. The little ears of corn in it and the jumbo carrot slices in the dish are so colorful.
Anyhoo, now for today, the sun is here again for a time. My husband is sleeping now, so shhhhhhhhhhhhhhhh. I made him hot cinnamon buns for breakfast. I made five of them, so I took two over, still very warm, to my hermit like neighbor across the road from us. He answers the door with a cigarette hanging on his lip. He is an interesting guy. His face lit up so, I should remember to do that more often, take something hot over to him.