So Glad it is Friday.... (2007-10-19 - 5:53 a.m.)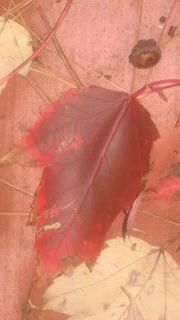 This is a photo of part of my claret sidewalk section with some of the zillions of leaves that are falling right now. Today they said that the wind will be strong, so I am thinking the leaf fallout will be knee deep by the time I get home from work today.
I work today, have to finish the payroll before I leave, otherwise I will have to go to work on Monday, day one of my vacation. So I plan to finish it, the only glitch would be, if the county computers are down. They were down for about 3 hours almost two weeks ago. So that wasn't the greatest. I will go to CURVES today, because I won't get there again until Tuesday before my hair appointment. I will just have to do more walking here at home. Saturday looks good for that, the walking I mean. We have had so much rain, we had tornado watches and warnings around here yesterday afternoon and into the evening. Up north there are flood warnings, so all this rain in the rivers will flow down this way. When you are outside, I could hear the water rushing over the damn, which is less than a mile from here. They have to open the gates because the lake is way up and the river that runs into the lake is swollen. It is all the ripple affect from up North. Anyway, that is about all from here. I haven't heard from my parents or son, so I am glad about that. I don't want to talk to either party right now.
I love to knit scarves, is there anyone out there who needs a scarf? You will need to tell me the color of your winter jacket and how long you like a scarf. Are you the type who likes to wrap the scarf twice around your neck, or do you like to do that twist over thingy in front of the jacket. Let me know.