A Sharp, Crispy Day Out... (2007-10-12 - 4:53 a.m.)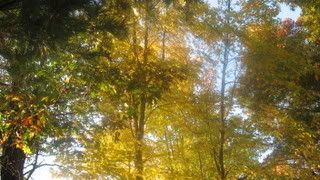 This is a picture I took of part of our back yard. This particular tree usually turns a beautiful red, but this year it didn't. I don't know why? Most of the trees on the Island only turned this yellow, and maybe a hint of orange. There really wasn't alot of vivid orange or reds this year. Now with the mighty winds we have had the past week or so, off and on, most of the leaves are off the Maple trees. The Oaks still have most of theirs, they don't give my the finery until mid-Winter around here, but this year could be different. I am just stumped why the Maples didn't show more red color this year.
So the new tattoo is really itchy now. It is starting to slough off the skin covering from being all healed up. So it is progressing about right.
Only today and one more week to work, then I am off on vacation for another week. I have alot to get done, between now and next Friday. I won't stress about it, because, if I can't get it done, I will go in on the Monday of my first day of vacation. I can't do it all, as they say. My boss was on vacation yesterday, and she is on vacation today. Another boss is on vacation, today, Monday, and Tuesday, I like that also. Then alot of the other staff are off today also. So I can hopefully just cruise through some of the work I need to get done. I go to CURVES today, I am going three days a week. Next week on the 17th is my weigh in and measure day, so it will be one month back at CURVES. So I will probably add one more day to CURVES. I like to go. I know you shouldn't, but I don't think that I overdo it there. Eventually I will be going every day that I am at work during my lunchbreak. I won't go, if in the Winter the weather gets too, too cold, or a storm comes in. You know that in Wisconsin, it can change quickly.
Looking forward to the weekend, the usual. Tomorrow looks excellent, weather-wise, so maybe I can get my husband to work outside with me for an hour or two. I have to dump my planters now, I can't put it off anymore. Plus I have a number of mulch bags I have to put on my back garden, and around my Hostas. Other than that, not much else.