Almost Here.... (2007-09-28 - 6:22 a.m.)
Here is a happy cat, that is the way I feel because the weekend is almost here.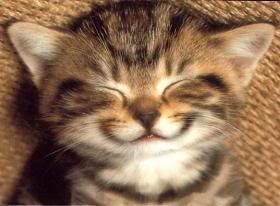 It sure seems like it has been an extra long week around here. I don't like that when it seems so long. Way too much time to ponder and dwell in the corners of your mind. I don't like to sit and ponder especially when I am waiting around in the Marshfield Clinic. I hate to go there. I suppose hate is too strong of a word, I strongly dislike to be there. When I was done on Wednesday, late morning, I practically ran out of the clinic. I just feel so violoated when I am there. They are always poking and prodding your body parts. That is about all I will say about that. I got a portion of the results back, for the most part, I am alive and kicking. Now they can send people to outer space, yet they can't get some medical test results in a 24 hour turnaround. When I almost died from that bacteria infection in my colon and digestive tract, they apparently had a super duper turn-around. So with the routine tests, I suppose a little waiting if more cost efficient. My stay in CCU and the hospital was big bucks, let me tell you. Thank heavens for my health insurance. I can't imagine working for someone and they don't offer a health care insurance coverage plan. I feel so bad for the young people and anyone who can't afford health insurance. My son being on of the people. OK then, I have to stop with this rambling on.
So for the most part, glad it is Friday, plan to go to CURVES during my lunchbreak. Do my work, come home and just rest. How exciting is that, I tell you. I plan to take a jacuzzi bath tomorrow, and watch some of the shows I recorded. I want to go for a ride through the Sand Hill Crane Reserve near us, to see all the birds coming in. They are just thick around here flying in. Just thick like all the golden pine needles showering down all in the yard. There is a blanket of needles you walk on now.