That Darn Doorbell....It Sounded So Real.... (2007-09-24 - 5:34 a.m.)
I was going to copy and paste a outdoor Fall picture here, but I changed my mind and put my pets here instead. I usually have the TV on in the morning, it is on Coach, for noise in the background. Well this morning on Coach, their doorbell rang, my doggie Sadie, jumps up from her doggie bed, she was all snuggled up in her blankie, runs to the couch, barking, looking out into the blackness. She can't see a thing, but by god, she is the guard dog, as Idamay runs away down the hallway. So I say to Sadie, hey it is on TV, like she will understand it. So she comes back to her doggie bed. She does the two times circle round before curling up and then I cover her again with her blankie. Wouldn't you know it, within a minute or two, on Coach their doorbell rings again. Sadie does the dash to the couch, looking into the blackness of the morning, wondering where the fuck is the person who is ringing the doorbell. I wonder if she is thinking maybe that god awful red squirrel is pulling her chain and ringing the doorbell on her. So again I say, hey, that was on TV, she comes back to her bed and we repeat the getting comfortable routine. She is so routine about what she does. So all of a sudden, I think, are they going to ring the damn doorbell again on TV? I quickly shut off the boob tube for now. It isn't like I haven't seen this one of Coach. I have seen them all a time or two. So I put a cute picture up of my two buddies.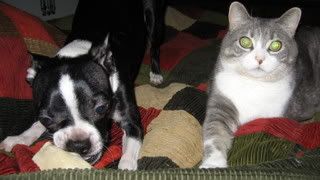 Idamay still hasn't come back into the living room. Does she anticipate that Sadie isn't done yet running to the window. Don't you just love coming up with thoughts about what your pets are thinking!! So happy Monday to all you pet lovers out there...we love their little quirks!!!!