Wandering Random Thoughts of a Wednesday... (2007-07-11 - 5:56 a.m.)
I am so far behind at watching the live feed of Big Brother 8, I think it is over six hours now I have to watch. It hooks you. I really like Dick, he doesn't care what yah think of him, you either like him or you don't.
I think that I am getting the hang of the adding an image here thing. Now I have to learn something else. But here is a new picture of one of the flower pots, the flowers sure have grown, and I haven't added any fertilizer. My mom when she plants flowers in her pots always packs them with alot of them. She says that is the secret to making them so lush looking.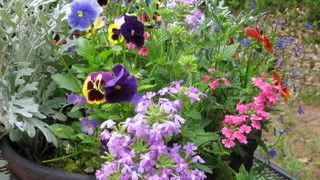 Other than that I don't know too much. My husband worked again last night, so then he will sleep today, and be totally useless tonight. You can't wake him easily if you try. I can't imagine sleeping so hard. Last night my doggie went out at 11:25 pm, so I went to the bathroom. Then I woke up at 4:26 am and got up to go to the bathroom. That is the longest amount of time that I have slept in a long time. There is some truth in, don't drink anything with caffine in it after 3 pm. I am working at cutting back on the caffine. Sometimes a person can just drink way too much of it. Though I do like my diet pepsi and diet pepsi with lime. I should try limeade. Anyhoo, that is about it here. Got help on making my son's skull hat I am knitting on put on circular needles. I kept getting an ellispse, and having to start all over. I just couldn't see how to make it work.
=^..^=